Free Labeling Software
Barcode label printing software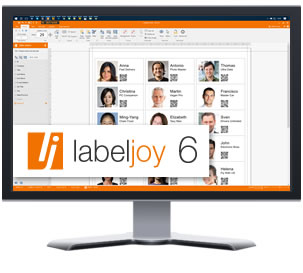 Download our Professional barcode and label software for Free
Download our professional label software and try it for free before purchasing. With Labeljoy Free edition you can create and print labels using all the features of the Full edition.
Download and edit all white templates and all designed template to create fantastic custom labels.
Features of Labeljoy Free Trial
This free program edition supports all you need: 1D & 2D barcode symbologies, database connection, data import data from Outlook, creation and modification of label templates and use integrated clipart libraries.
You can use all features of this barcode generator program to customize and personalize your labels.
How the Trial Edition Works
The trial version is fully functional and there is no time limit!
Download and use our designer label software for free! The only limitation consists in a having a small note added to the first 500 labels during printing and a watermark text for the following labels.
Buy a Basic or Full version, enter the activation code and enjoy the program features.
Custom Labels to Print
Download the software and edit our templates to create custom stickers labels, business cards, badges, id cards, address labels, and much more.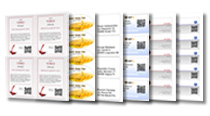 System requirement and note for installation
Labeljoy is a software for Microsoft Windows.
The supported versions are: Windows XP, Windows Vista, Windows 7, Windows 8, Windows 10
and Windows 2003 Server, Windows 2008 Server, Windows 2012 Server.
Step for installing the software:
Download the software
Run the labeljoy5setup.exe software to start the installation.
Choose your language
Click on [Next] to continue the procedure.
Press [Finish] to complete the installation
To register Labeljoy, follow these three simple steps: connect to Labeljoy's website and purchase a registration key; enter the key into the registration dialog box accessible through the "Registration" sub menu under the "Help" menu, and then verify that the registration process has completed successfully.