adding a barcode
On line reosurces:
Video: How to generate barcode and QR Code
Info: Barcode types
In order to add a new Barcode element, you need to either start the Barcode insert mode by selecting the corresponding button on the toolbar and use the mouse to draw the new barcode area on a label, or have Labeljoy add a new barcode directly to the current group by selecting the corresponding sub-menu from the Group settings menu.

Click on the Insert barcode button on the toolbar to enter the Barcode insert mode. Then click and hold the left mouse button on the label group where you want to add the new barcode. Drag the mouse and draw the rectangular area on which the new barcode element will be inserted. Release the mouse button and the new barcode will be inserted.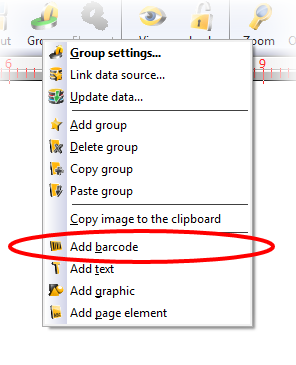 Alternatively, select the label group you want to add a new barcode to and select the Add barcode sub-menu from the Group settings menu.

A new Code 128 barcode element will be automatically inserted, encoding the text Labeljoy.

Once the barcode has been added, you can modify its settings through the barcode settings dialog box and adapt it to your needs.