Code 128 Barcode
Code 128 is een zeer compacte barcode. Het wordt gebruikt voor alfanumerieke of numerieke barcodes. Het kan alle 128 ASCII tekens encoden.
Code 128 wordt gebruikt als basis om EAN-128 en GS1-128 barcode symbolen te genereren.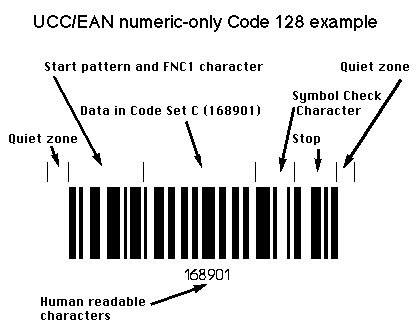 Code 128 Symbool
Labeljoy laat u een alfanumerieke tekst tot 48 tekens invoeren om de barcode te genereren. Vul de tekst in het invulveld in.
De gewone tekst kan onder of boven het symbool  getoond worden, of het kan verborgen worden afhankelijk van de instelling in de Tekst combo box.
Tekst aaneenschakeling:
Als een Code 128 barcode element gegenereerd wordt door aaneengeschakelde velden of tellers, zijn de volgende regels van toepassing:
De tekst mag niet langer zijn als 48 tekens.
Als een waarde niet voldoet aan de bovenstaande regels, wordt de barcode niet weergegeven.