QR Code Software
With Labeljoy QR code software you can generate personalizated codes, link them to different actions as web pages, QR code campaigns, vCards and position in Google maps!
Labeljoy allow you to create QR Code Offline, without needing an internet connection.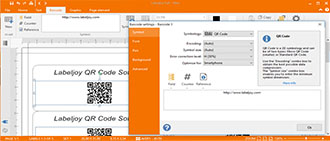 Improve your business with QR codes generator Software
Qr code generator software is increasingly useful. The use 2d barcode is now daily, so it's important to update and have the best software for QR Code. With Labeljoy you can put Codes onto flyer, business cards, name tag, and any type of labels: product labels, wine labels, cosmetic labels.
Software Features
Labeljoy is a complete and easy software with which you can create 1d barcode and 2d barcode. Labeljoy has many functions that allow you to create and print custom labels with qrcode on any paper size and layout.