help
The last button on the right on the main icon bar provides access to a menu containing all help related items.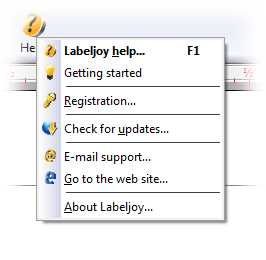 The available items are:
Labeljoy Help: opens this help guide file.
Getting started: Shows the Welcome screen usually shown at program startup.
Registration: opens the registration dialog box that enables you to enter the registration code and activate Full or Basic mode.
Check for updates*: runs the update procedure to check if any updates are available.
E-mail support*: creates a new e-mail message addressed to Labeljoy's technical support.
Go to the web site*: opens the www.labeljoy.com web site.
About Labeljoy: opens the About dialog box that displays Labeljoy's version information.
* For these items an internet connection is required.