This page refers to Labeljoy 5, which is not the latest release!
Please upgrade to Labeljoy 6 to get the latest version of the software with all its amazing features, or go to Labeljoy 6 user guide if you already own it.
exporting pages
By clicking the Export/Pages... menu the Export pages form is displayed.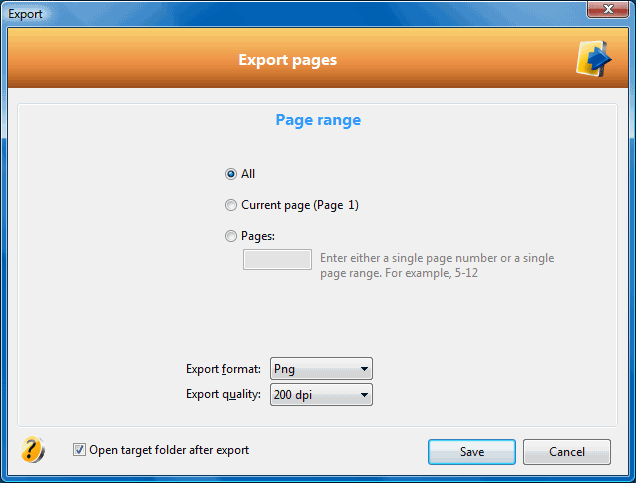 The form mimics a standard print form. Select one of the following options:
All: exports all pages.
Current page: export only the page currently displayed on screen.
Pages: enables you to define a single page or a page interval to be exported. Enter a single page number to export a single page, or a page range in the XX-YY format, where XX is the number of the first page and YY the number of the last page to be exported.
In the lower end are two combo boxes that enable you to define the format and the quality of the generated images:
Export format: select the image format to be used to generate the images. Note that the bitmap format is a non-compressed format and will generate files of much larger size compared to all other formats.
Export quality: select the DPI resolution (Dot Per Inch) to be enforced in the generated images. The higher the selected value, the higher the size of the resulting images and the required processing time.
Lastly, at the bottom of the form is the Open target folder after export check box, which, if checked, will automatically open a new Explorer window at the end of the exporting procedure of the folder in which the images were exported.