set properties
The Home tab shows several items to enable you to edit the most common set properties.
The Set group enables you to quickly add/remove labels from the current set.
Note that if the set is connected to a data source, the number here will show the total number of records and the add/remove buttons will be disabled.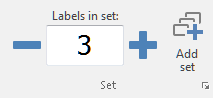 The Data group has 3 buttons that enables you to manage data connection and filtering for the current set.
Data source: starts the link data source wizard.
Update data: runs the data update procedure if the selected group is linked to a data source.
Filter: shows the Filter view to process data filtering and sorting.
The Colors group includes 2 buttons to set the background and the frame for the whole label.

The Background button opens the color popup menu enabling you to set the background color for the whole label.
The Frame button opens the popup button to setup a frame around the label, including frame size, line type and color.